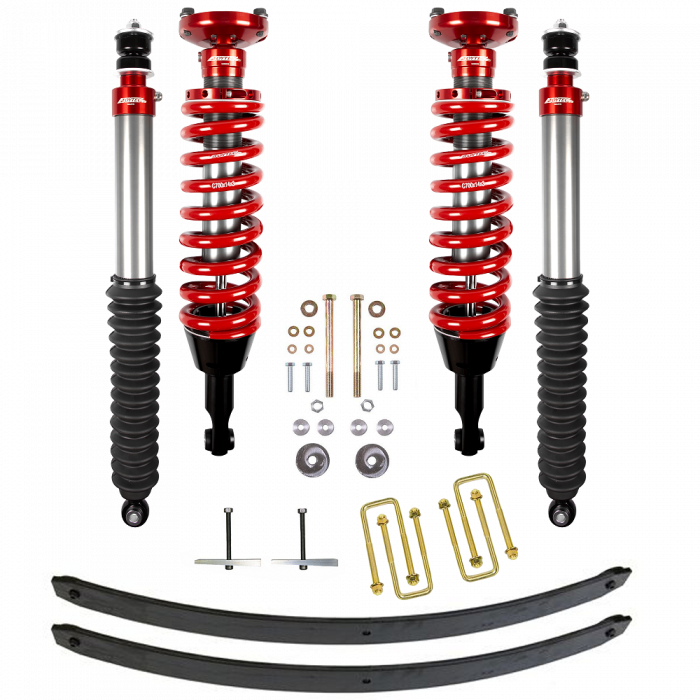 Toytec Aluma Series Boss Suspension System for 16+Tacoma
SKU 91031
Product Details
**$15 SHIPPING SPECIAL on BOSS Kits**
*applies to CONUS only.
**Please note this item may ship from the manufacturer**

TTBOSSTAC-2016ALM - Toytec Aluma Series Boss Suspension System for 2016-Current Toyota Tacoma
Introducing a brand-new addition to our lineup, Aluma Series. Toytec Front Aluma Series Coilovers still provide the same great ride quality as our current line, but offer additional benefits for you 2016-current Toyota Tacoma.
TTBOSSTAC-2016ALM Includes:
Toytec Front Aluma Series Coilovers

The shock bodies are made from hard anodized aluminum for cooler operation as well as better protection from the elements.
Adjustable from 1-2" of lift
Internal hydraulic valving optimized to match the 700 lb rate spring for use with or without a bumper or winch.
Front Aluma Series Coilovers are assembled and ready to bolt on. No spring compressor or special tools needed for installation.
The TTBOSSTAC-2016ALM kit includes sway bar relocation brackets, preload adjustment tool and owners manual.
TTBOSSTAC-2016ALM has a nitrogen charged design with internal floating piston to help prevent shock fading and cavitation.
Heavy duty 16mm induction-hardened piston shaft.
These shocks are fully rebuildable
Aftermarket upper control arms are recommended.
Front Differential Drop Kit:
TAC-DR-05 - Front Differential Drop Kit **Recommended for all lifted 4x4 Tacoma's
Rear Lift Options:
Toytec Add-A-Leafs. - Provides approximately 1.5-2" of rear lift maintaining the factory stance. This long style AAL offers a great ride.
Toytec Progressive Add-A-Leaf pack - Provides approximately 1.5-2" of rear lift
Toytec 1.5" Block kit - Provides 1.5" of rear lift. Maintain the factory ride and feel in the back of your 2016-current Tacoma.
Toytec Boss Leaf Pack - Approximately 2" of lift. Includes bushings. 10 leaf design for the best ride, comfort and articulation.
Includes Rear Axle Shims for proper pinion angle alignment
Rear Shocks:
LKTAC20R - Toytec 2.0 Aluma Series Rear Shocks designed for 1-3" lift. Shock bodies are hard-anodized aluminum for cooler operation and longer lasting in the elements. Fully rebuildable. Perfect match to our Aluma Coilovers.
Front Bump Stops:
DuroBumps are proudly made in the USA with dual durometer (hardness) rubber that provides smooth progressive dampening and greatly reduces hard bottom outs. This allows for more control and comfort compared to OEM bump stops that are harsh on contact. With DuroBumps installed, the shell-shock effect experienced when hitting the OEM bump stops is completely eliminated.
Rear Bump Stops:
Rear Bump Stop Spacers - 43007 - Recommended for use with add-a-leafs or complete leaf spring packs, these will allow your rear bump stops to function with the lift. (*Requires drilling 2 holes per side)
Durobumps - Tacoma rear bump stops eliminate the shell shock effect we're all familiar with when hitting OEM bump stops. Our duel durometer bump stops easily absorb hard impacts and help keep the vehicle stable at higher speeds in rough conditions. The 4.25″ rear bump stop is intended for trucks with a rear lift of 2″ and extended shocks of up to 1″. These bump stops have been designed to stop wheel up travel under articulation prior to extended shocks bottoming out.
Add Upper Control Arms to complete your kit:
Total Chaos Uniball Upper Control arms - 96504 - Maximize your wheel travel and increase your strength while also correcting alignment angles.
SPC Adjustable Upper Control Arms - 25470 - The most adjustable UCA on the market. Adjust for tire clearance and correct your alignment angles.
***Free Shipping Applies to the Lower 48 US States. Items will be shipped via Ground Shipping. If you need expedited shipping methods, please contact us***
Save this product for later